Sytze Steenstra
- books, essays
- research
- editing, translating
- lectures, workshops
- art projects
Josh Moll
- coaching
WORKSHOPS AND LECTURES
Sytze Steenstra: 06-28072072 / 043-3540765; mail sytzesteenstra@mixed-media.info
Sytze gives lectures and leads workshops, on arts and philosophy, often in relation to the wider culture and to society. He also advises on the lay-out of courses and course programs. He has taught at Dutch universities as well as at academies for fine art, architecture and music schools, both in Dutch and in English.
Clients in 2011 included:
Two-day workshop 'Conceptual Art and Popular Music: the work of David Byrne. Philosophy, art history, concepting. Leeuwarden, Academy for Popular Culture.
Lecture on the 'Gesamtkunstwerk', its history and philosophical background. Maastricht, Academy of Arts.
Introduction and tour through the exhibition: Leon Golub, Live and Die Like A Lion. Sittard.
Two courses in English, developed and taught at the University College Maastricht, and two courses in Dutch, for Maastricht's Academy of Fine Arts:
Introduction to the Arts
A general introduction to literature, Music, theatre, fine art, centered around mimesis as organizing concept. Key texts to this course (with a reader of additional literature):
Erich Auerbach: Mimesis.The representation of reality in western literature.
Richard Schechner: Performance Studies: An Introduction.
Howard S. Becker: Art Worlds.
Students were challenged to do some writing or drawing themselves, following:
Raymond Queneau: Exercises in Style
Matt Madden: 99 Ways to Tell a Story: Exercises in Style
The Presence of Art
An introduction to modern and contemporary fine art. Guided by a reader with some 50 texts, both artists' texts and scholarly art history, students delved into modernism, the classical avant-gardes, Walter Benjamin's artwork-essay, the postmodernism-debate, conceptual art, contemporary photography, and the art museum as ritual arena. As part of the course, videos by Robert Morris, Dan Graham, LIGNA and Johan Grimonprez were viewed and debated. Moreover, artists and theorists gave talks and presentations: Ron Bernstein (artist's presentation), Ole Frahm (artist's presentation), Friedrich Tietjen (photo history), Marjan Melkert (architectural history), Cor Blok (surrealism), Joes Segal (art and politics). Every year, I provided an excursion and extensive tour of the Van Abbe Museum, Eindhoven.
Videocover

"Radioballett: Zerstreute Öffentlichkeit"

LIGNA/Ole Frahm

Part of the course
Lecture series: Eight philosophers for artists
Easily accessible, introductory lectures on René Descartes; Romantic philosophy around 1800 (Novalis, Schlegel); Karl Marx; Friedrich Nietzsche; Hans-Georg Gadamer; Jacques Derrida; Michel Foucault; Walter Benjamin. Every lecture rounded out with a discussion of relevant art, ranging from Le Corbusier to Ashok Bhalotra and from Philipp Otto Runge to Paul Klee, Sigmar Polke and Jenny Holzer.
Workshop philosophy for design students
A 'hands-on' course for design students, a series of discussions of essays chosen from Roland Barthes' well known Mythologies and essays from Piet Meeuse's book Doorkijkjes. Over de werkelijkheid van beelden [View-throughs (or 'interior vistas'): on the reality of images], followed by student essays on the uses of images and imagery.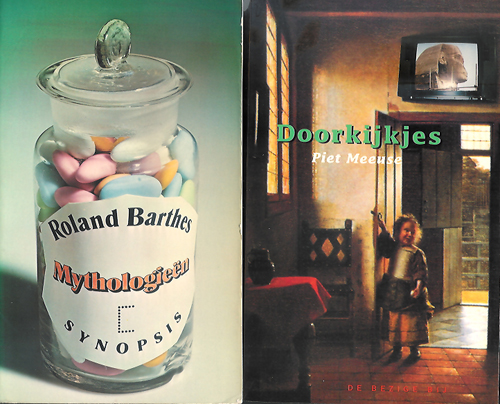 Courses taught (selection)
At the Faculty of Arts and Social Sciences of Maastricht University and at the University College Maastricht I have taught the following courses:
Postmodernism
Cultureel Pluralism
Knowledge and Criticism (the scientific revolution and the cultural influence of the sciences)
Conceptual Analysis
Enlightenment and Romanticism (social, literary, artistic and philosophical developments, 1700-1850)
Disenchantment and Ideology (The long 19th century, Tocqueville, Marx, Darwin, Weber)
After the Apocalyps (the destruction of the European Jews, Trauma, Witnessing, Memory)
The parcellation of man. The politics of the sciences of man. (Comparative history of the biological, sociological and ethnographic study of man)
Philosophy: reading Hume and Kant; pragmatism; philosophy of culture in the 20th century
Old and new media (digital media and remediation)
Writing courses; workshops essay writing
At the Faculty of Philosophy of the University of Amsterdam I designed and taught courses on:
Walter Benjamin, based on "Ursprung des deutschen Trauerspiels" [The Origin of German Tragic Drama]
Dialectics of Enlightenment: Max Horkheimer en Th. W. Adorno.
For the Open University of the Netherlands I made the course
"Introduction to Philosophy" (four volumes, see under "Writing", "Books")
Contributions to courses on epistemology, hermeneutics, "Thinking about Culture".